SUD Life launched e-Wealth Royale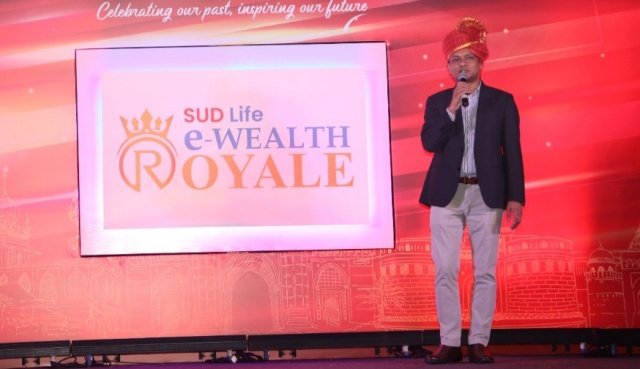 Mumbai : SUD Life, a joint venture of BOI (Bank of India) UBI (Union Bank of India) and Dai-ichi Life, launched a new product e-Wealth Royale, at a function held in Goa on Thursday, the 7th October, at the hands of Abhay Tewari, MD & CEO Star Union Dai-ichi Life Insurance (SUD Life)
e-Wealth Royale, is an unit linked non-participating, individual life insurance plan providing life cover with flexibility to choose your wealth creation on your own terms.
The product provides you, the flexible option of choosing a platinum or platinum plus, with an inbuilt waiver of premium in case of death, total and permanent disability. You also have the option of increasing the premium paying term (PPT) and policy term at a later date.
Among other features of the product is the flexible investment strategy one can opt for namely: the self-managed investment strategy and age based investment strategy. In the former one can opt to choose their funds based on individual risk appetite and in the latter based on age which can be periodically rebalanced.
The insured has a wide range of fund choices in blue chip equity, mid cap equity, dynamic growth plus, balanced plus income, gilt money market fund.
Also available are 12 free switches per annum with no capital gains tax for switching which is the specialty of this product. e-Wealth Royale can, truly be classified as a product of wealth creation that will bring happiness to the insured and family.
Other features of the e-Wealth Royale Product:
Sum Assured (SA)

Min 5L

Max 25L

120X of the monthly prem; 10X
of annual prem
Prem. payment Mode

Monthly

Quarterly

Half Yearly or Annually

Min & Max Premium

Monthly (5/20 K), Quarterly (15/62 K), Half Yrly (30/125 K)
Annual (50 / 250 K)
Premium Paying Term

5 Y, 7 Y, 10 Y & Regular PPT

Policy Term (PT):

For 5 Y/ 7 Y /Regular PPT – Min 10 Y PT; And for 10 Y PPT – Min
15 Y PT Max 40 Y PT for all PPT
Age at Entry (Last B'day):

Min 30 days (Life Assured) and Min 18 Y for Policy Holder
Max 50 Y for 10-14 PT & Max 55 Y for 15-40 PT for Life Assured
/Policy Holder
Maturity Age

Min 18 Y

Max

75 Y

Low Cost

No allocation charges, and Return of Policy Admin charges (after
10Y and no charge there after), and Return of Mortality charges
(at maturity by adding to the fund value)
Fund Management Charge

Capped at 1.35%

Special Benefits

Loyalty Additions from 6th policy year & Wealth Boosters from
10th policy year
IT Benefit / Tax Free:

As per Sec. 80C (on premium payment) and 10(10D) (on
Maturity)
Powered by Froala Editor