Nijukti Parba : 262 Assistant Professors, 88 Junior Executive Assistants Join State Govt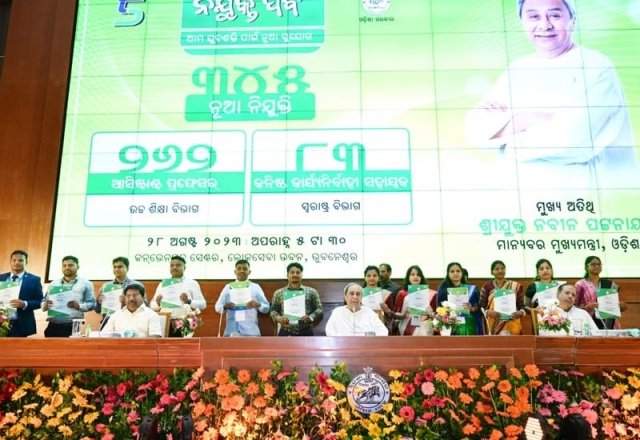 As many as 262 Assistant Professors and 88 Junior Executive Assistants today joined the state government. A Nijukti parba programme was organized at the state Convention Centre in Lok Seva Bhawan for the purpose.
Speaking on the occasion, Chief Minister Shri Naveen Patnaik said that one of the key challenges for our higher education is to make our children employable or self-employed.
Then he continued, there is a need for our students to come out of their institutes more confident of their capacity to do something meaningful to their own lives, and ultimately, to society. Here, the role of teachers, professors becomes very significant. Apart from quality teaching, they should instill confidence, inspire them with positivity and create a sense of purpose to their lives. Only a teacher can do this effectively. He said he has strong faith in all the teachers, professors. He expressed confidence that they can successfully transform the students into real assets of our nation.
Congratulating the assistant professors, the CM said that Higher Education is a major platform for students to enter into the world of professional career. From here, students take divergent career options and contribute to society in various capacities. So this is one key sector, where we are increasingly putting our focus on, he added.
He informed that since 2016-17, the state govt has recruited more than 4 thousands teachers in government colleges.
He said that the state is providing various scholarships, laptops, virtual library facilities, 'green passage' for orphan students and initiating 'Mo College' campaign for greater involvement of alumni in improving the education ecosystem.
He further said that the govt is also increasingly spending more on research. The state will spend over Rs 216 Crore in next five years under Chief Minister Research & Innovation Students' Scholarship Scheme, he added.
Speaking further, he said that the post of Junior Executive Assistants in the State Secretariat carries special significance. As government employees, they are here to serve the people of Odisha. Their sincerity and commitment to jobs will ultimately prove invaluable to our endeavor of the transformation of Odisha. He expected them to strive to deliver the very best in the service of our state.
Speaking that the State has embarked on 5T initiative to transform the state, he expected all to follow this governance module and contribute to state's transformation. He thanked the Home Department and Higher education Department for their recruitment drives. He asked all departments to make concerted efforts for regular recruitments to fill up their vacant positions.
Joining the programme, Higher Education Minister Shri Atanu Sabyasachi described the efforts made by his department to recruit teachers, enhance quality of teaching in colleges and universities. He appreciated the vision and direction of the Chief Minister in improving higher education in state.
Chief Secretary Shri PK Jena said consistent recruitments in all departments have strengthened the apparatus of governance. He called upon the professors to educate the new generations of students as per needs of the current times.
During the programme, the Chief Minister released the guidelines on Mukhya Mantri Research & innovation Fellowship Programme (MRIP) and also Mukhya Mantri Research Fellowship Test.
Two Assistant Professors Dr. N. Tanmaya Kumar and Sangeeta Mishra shared their experiences of recruitment process. They said that the process was highly efficient and transparent. They committed to bring qualitative change in education and inspire students to success. Junior Executive Assistant Shri Surya Narayan Das, sharing his experience, also appreciated the 5T principle that was visible all through the recruitment process.
Secretary to CM Shri VK Pandian was present during the programme. ACS Home Shri DK Singh delivered the welcome address, Secretary Higher Education Shri Aravind Agrawal proposed the vote of thanks.
Powered by Froala Editor