Odisha Millets Mission proving millets an overall better alternative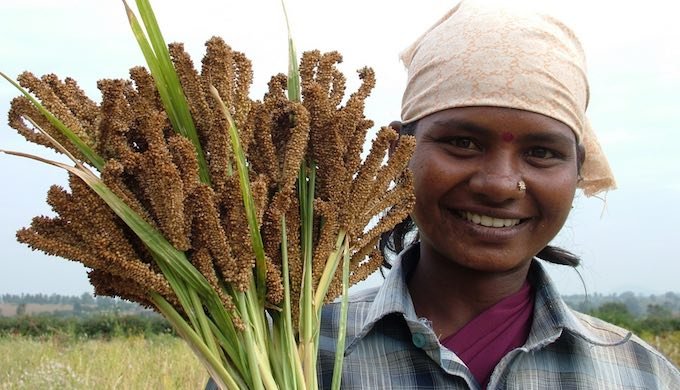 Bhubaneswar : A sharp rise in millet crop production followed by better income opportunities for farmers has been recorded in the state of Odisha. Following the launch of the Odisha Millets Mission in 2017, the state has seen a significant number of farmers shifting their agricultural practices towards millets production. Realising its vision, the Odisha Millets Mission has encouraged its farmers to go back to their roots and utilise the millet potential.
Odisha being warm throughout the year, has harsh climatic conditions making it difficult for farmers to grow staple crops. Millets being more resilient, require less farm input making it a perfect crop to grow in Odisha's climate. Hence, in order to promote its production Odisha Millets Mission since its incorporation, has been striving to reach each and every block in the state.
While the mission promotes a variety of millet crops, Ragi can be seen taking centre stage with its production shooting from a mere 40 thousand quintals in 2016-17 to over (7 Lakh quintals) in 2021-22. The farmers enrolled in the programmes by Odisha Millets Mission have skyrocketed from 8 thousand to over 1.5 lakh on July 22. The MSP or minimum selling price for millet crops has been kept significantly higher when compared to paddy, in some cases being almost double.
Exclaiming his satisfaction from millets, a farmer from Angul district said, "We used to face a number of challenges but with millets, it's easier to farm and less hectic. With the prices being higher in the markets we are able to afford a better lifestyle and health options for our families."
"Odisha Millets Mission has created an unwavering trust and belief among the citizens. Moving on to the next phase to further develop better strategies to showcase our state's Millet potential."
Understanding the harmful after-effects of chemical fertilizers, Odisha Millets Mission promotes knowledge sharing and demonstrative strategies to promote the use of quality seeds and less intensive farming practices. OMM also incentivizes farmers with direct bank transfers and has introduced various automated portals to maintain Fair Average Quality (FAQ). Due to these practices, it was observed that the yield of certain crops like Ragi significantly increased within a short period.
Repeated initiatives have reassured the state's farmers to adopt their traditional cropping patterns, meanwhile getting a better price for their yield. The Odisha Millets Mission moving to its next phase, ensures the beneficiaries of better strategies and technological inculcation in order to make the process of millet acceptance smoother and even more flexible.
Powered by Froala Editor