Make Efforts to Unlock Students' Inherent Potential- CM to New Teachers, Principals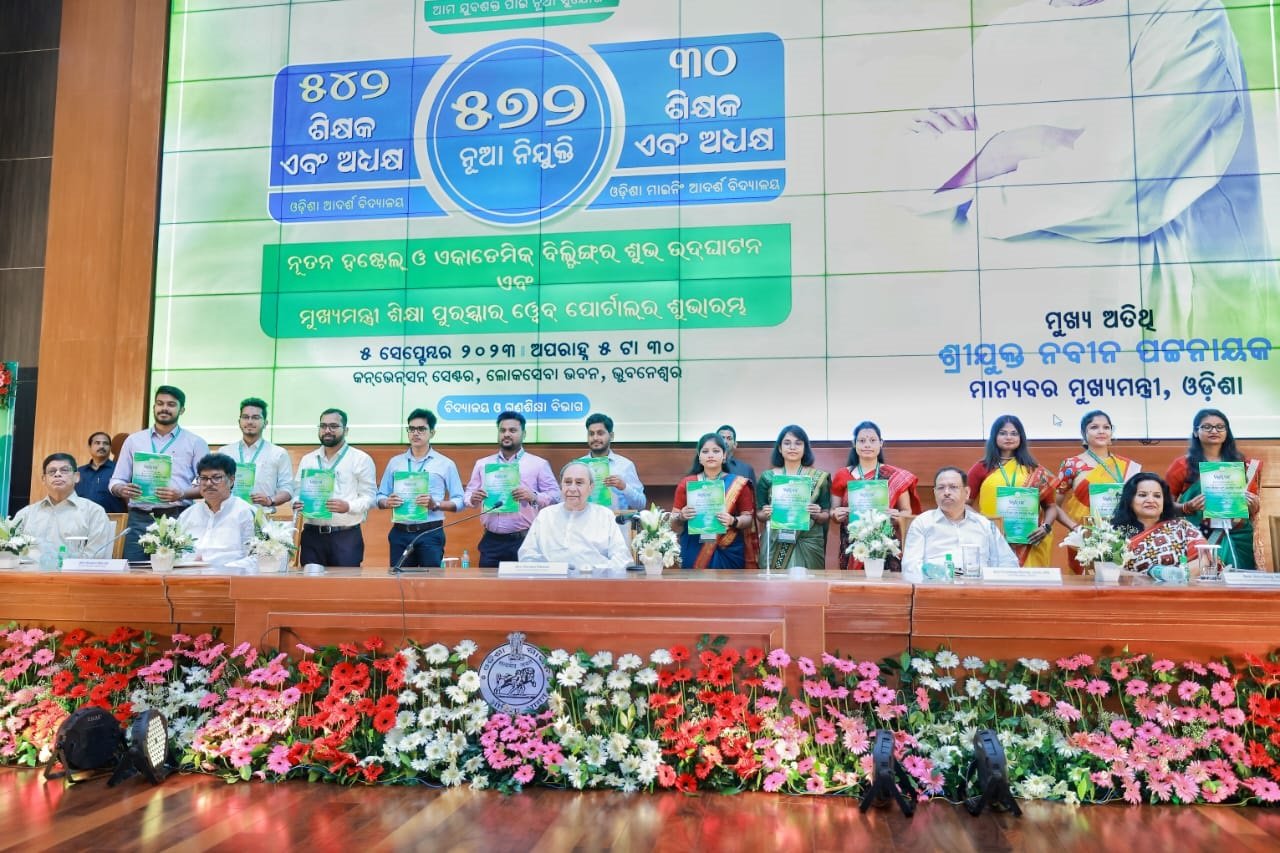 As many as 542 Principals and Teachers today joined Odisha Adarsha Vidyalayas. Besides, 30 Principals and Teachers joined Odisha Mining Adarsha Vidyalayas making the total appointments 572 on a single day. A Nijukti Parva along with orientation was organized at convention centre in Lok Seva Bhawan for the purpose.
Attending the function, Chief Minister Shri Naveen Patnaik advised the teachers and principals to make endeavor to unlock students' potential. The Chief Minister said that this large appointment is a huge boost for Odisha Adarsha Vidyalayas. He expected the new principals and teachers to try their best for making these institutions one of the best in the country.
While the quality of teaching is of paramount importance, the CM continued, the success of an educator lies in understanding the inherent potential of students, and making active efforts to unlock them. There should be a conscious endeavor to help children dream big, and create the confidence in them to achieve what has been hitherto impossible, he added.
Focusing on the 5-T initiative, he said that this can be an empowering tool for children. The knowledge of technology, learning the essence of teamwork, maintaining transparency, and understanding the importance of time can bring a transformative change in children. He expected the principals to follow this initiative in their institutions.
Congratulating the Principals and Teachers, he said that the new Odisha of our dreams can be built by empowering every child with the power of education. The Odisha Adarsha Vidyalayas were set up to achieve this objective by providing free quality education in English medium to rural talents from Odisha, he added.
The Odisha Adarsha Vidyalayas are like launch-pads for children where they can widen their horizons with wings to fly even higher, the CM undelined.
He expressed happiness over the success of Adarsha Vidyalaya students in national level entrance exams for engineering & medical education. He said that it is a right place for our students to realize their dreams.
The CM also inaugurate 9 hostel buildings. They are established in Dhenkanal, 2 in Mayurbhanj, Boudh, and Sundargarh. Besides, an academic building was inaugurated at Angul. The CM also launched the Mukhyamantri Shikhya Puraskar Web Portal.
School & ME Minister Shri Sudam Marndi said that OAVs are a vision of the CM to take Odisha forward in every field. Many of OAVs are comparable to best schools in the country, he added. He said that 261 of the teachers are women.
Odisha Adarsh Vidyalaya Sangathan Chairman Shri Upendra Tripathy said the OAVS is like a family. Welcoming the new teachers, he said that we will walk together to inspire, empower students.
Two teachers Manpreet Sahu and Sohail Alam Khan, sharing their experiences, said that that starting a career in teaching on Guru Divas is certainly lucky. The recruitment process has all through been transparent, fast, and merit based.
Interacting with the new teachers and principals, the Secretary to CM (5T) Shri VK Pandian said that as all of them have come purely on merit on an absolute transparent system, they should also follow the same in their teaching career.
Then he continued, it's the vision of the Chief Minister to create OAVs for building institutions that can help us build a new, empowered Odisha where merit and talent gets priority over everything else. You have leader in CM who believes people of Odisha his family. These institutions are modeled on likes of JNVs, Kendriya Vidyalays. We must create change makers from these schools, he added.
He further said that for the students, teachers are the real heroes, but for the state, they are the architects of modern Odisha. Therefore, they should guide the children with their own action, he advised. They themselves should follow SCHOOL- Sincerity, Camaraderie, Honesty, Obedience, Orderliness and Learning.
Commissioner-cum- Secretary Aswathi S delivered the welcome address and Project Director of OAV Smt Yamini Sadangi proposed the vote of thanks.
Powered by Froala Editor