Chief Minister promotes Odisha Tourism and sports in Kyoto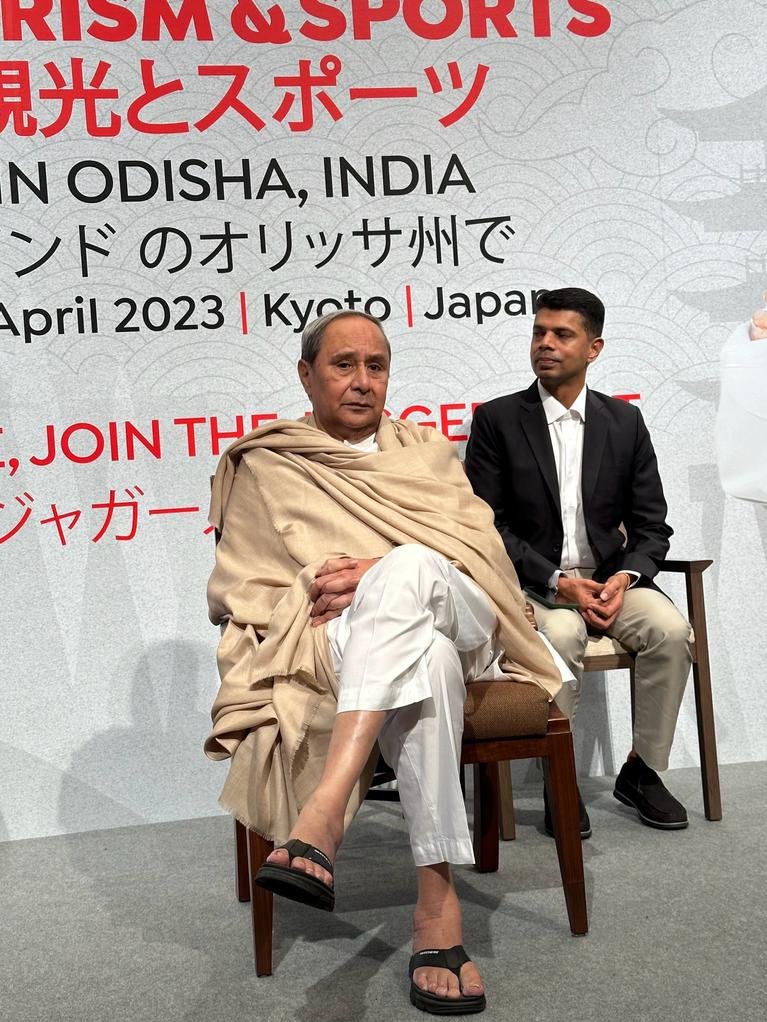 - *Chief Minister Naveen Patnaik meets the tourism and sports sector delegates in Kyoto*
- *Emphasises on the Buddhist cultural ties between Japan and Kalinga; Invites them to visit Odisha and explore tourism opportunities*
- *Arcelor Mittal Nippon Steel sign MoU for establishing Gymnastics High Performance center and Training centers in Odisha*
BHUBANESWAR : Chief Minister Mr Naveen Patnaik, hosted a roundtable discussion in Kyoto with a focus on opportunities for collaboration between Japan and Odisha in Tourism and Sports. The discussion was attended by major tour operators and representatives of the hospitality sector from Japan as well as participation from various Japanese sports associations and representatives from the sports sector.
During the discussion, the Chief Minister highlighted the immense potential of Odisha as a tourist destination, with a particular emphasis on leveraging Odisha's rich Buddhist tradition especially the heritage sites in Dhauli, Lalitgiri,Ratnagiri, Udayagiri. He spoke about the various initiatives undertaken by the Government of Odisha to promote tourism and improve tourism infrastructure in the state.
The Chief Minister also highlighted the significant strides made by Odisha in the sports sector and expressed his hope for collaboration with Japanese sports associations and universities.
Chief Minister SRI PATNAIK highlighted the Government of Odisha's focus on field of hockey. He informed the audience about the Birsa Munda Hockey Stadium, the world's largest hockey stadium in terms of seating capacity and how it was built in a record 15 months' time. He also spoke about the focus of the Government of Odisha on improving sports at the grassroots level.
Recently, the Student Delegates and Professors of Doshisha University, Kyoto, Japan had been to KIIT University, Bhubaneswar on an academic exposure trip. The Hon'ble Chief Minister cited this example and urged everyone present to explore such collaborative opportunities. He urged stakeholders in the sports and tourism sector to explore opportunities for collaboration between Japan and Odisha.
During the event, a Memorandum of Understanding was signed between the Government of Odisha and Arcelor-Mittal Nippon Steel for the development of a state-of-the-art Gymnastics Centre in Odisha and for collaboration between AM/NS and the Government of Odisha to further promote sports in the state.
The delegation also provided an overview of the investment opportunities available in Odisha for Japanese investors in the tourism and sports sectors. The representatives from the tourism and hospitality sector expressed their interest in exploring the possibilities of collaboration with Odisha, given the state's unique cultural heritage and natural beauty.
The roundtable discussion provided an excellent opportunity for both the Japanese and Odisha delegations to explore avenues of collaboration in tourism and sports. The meeting concluded with the participants expressing their commitment to working towards strengthening ties between Japan and Odisha in these critical sectors.
The Chief Minister expressed his appreciation for the warm hospitality extended by the people of Kyoto and conveyed his hope that the visit would contribute to further strengthening the relationship between Japan and Odisha.
Principal secretary Industries Sh Hemant Sharma made detailed presentation on Tourism sector in Odisha and the opportunities with State policy. Secretary Sports Sh Vineel Krishna made presentation on the sports sector related activities and the unique partnership model promoted by the state.
The delegates actively participated in the deliberations and showed active interest in partnering with Odisha
Powered by Froala Editor